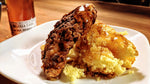 Out Of The Box Cornbread (super cheat)
Ingredients
1 Box ready to bake cornbread (we used Jiffy)
1 Tablespoons butter
1-2 Tablespoons Habanero Hot Honey, Akron Urban Honey,, Raw Wildflower Honey
Fried Chicken
10 boneless pieces of chicken strips (save leftover chicken for more later)
2 Cups Low-Fat Buttermilk
1 Teaspoon Paprika
1 Teaspoon Cayenne Pepper
2 Tablespoons Salt
4 Teaspoons Black Pepper
4 Cups All Purpose Flour
Canola or Peanut Oil
10 Croissants
3 Tablespoons Habanero Hot Honey, Raw Wildflower Honey, Bourbon Barrel Honey, Raw Wildflower Honey
Biscuits
Open one can of ready made biscuit dough (POP!)

Pull apart the individual pieces of dough and carefully place on baking sheet

Leave an inch or two between biscuits

Bake per instructions on the package
Fried Chicken
Add the buttermilk, 1 tablespoon of the salt,1 teaspoon paprika and 2 teaspoons of the black pepper to a  mixing bowl. Slowly Add the chicken thighs to a mixing bowl.  Mix it up and make sure the chicken is covered with the buttermilk bath. Refrigerate for at least 2 hours to marinate.

Add the flour, 1 teaspoon cayenne pepper and remaining 1 tablespoon salt, 1 teaspoon paprika and 2 teaspoons black pepper to a baking dish. Using tongs, remove the chicken 2 to 3 pieces at a time and coat well in the seasoned flour. Be sure to press the flour into the meat and cover completely. Shake off excess and reserve on a baking sheet.

When all the pieces of chicken are covered in the flour, add about an inch of oil to a heavy, deep frying pan. Over a medium-high flame, heat the oil to 375 F.

Check to see if the oil is hot enough by dropping a pinch of flour in the oil. It should sizzle. Add the chicken, being careful not to overcrowd the pan, and cook for 7 to 8 minutes per side, or until the outside is browned and the meat is cooked through. The thickest part of the meat should register at least 165 F on a 

Remove the chicken. Place a paper towel on a plate to soak up any excess grease.
Plate up!!
Cut your cornbread into any size you want

Cut each piece in half

Add the delicious Fried Chicken Tenders to each piece of cornbread (one or two pieces)

Finish with a heavy drizzle of our Bourbon Barrel Honey onto each piece of cornbread